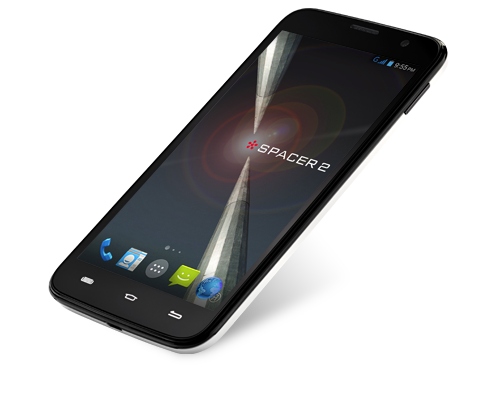 Cheap android budget smartphone segment has widened its limits. Meet Just5 Spacer 2, a new budget phone from Latvia!
Specifications
Big capacitive touch screen of Just5 Spacer 2 easily and quickly react your finger touching. It has diagonal of 5 inches and 540 x 960 pixels resolution. All these will give you an opportunity to enjoy high quality picture and it doesn't matter if you want to look through your photos, play a game, read something or watch a video.
Two slots for SIM cards make it possible to use two different phone numbers at once. Now you can divide your work and your private life staying in touch and it is not necessary to take and control two phones now.
Just5 Spacer 2 high speed of work is provided by good span of short term memory (1 Gb), powerful quad-core processor (1,3 GHz) and Android operating system.
This cheap android budget smartphone gives an opportunity to listen to music, watch videos, surf the Internet, play popular games, and use special apps and GPS navigator simultaneously.
Just5 Spacer 2 is an ideal choice for those who like to keep all balls in the air, are be frugal of their time and money and love it when a phone works quickly and without glitches.
Excellent built-in 13-megapixel camera of Just5 Spacer 2 takes perfect, almost professional, high quality pictures. Due to it you will be able to capture the most important moments of your life in details. By the way, front-facing cam makes good selfies and gives you an opportunity to use video communication.
GPS navigator of Just5 Spacer 2 will help you to use e-maps and easily define your location. It can also be used in order to find a street you need or a café you want. Look through Google Maps, download Waze and other apps which will help you to find the bestand the shortest way and escape traffic jam.
3G Internet of Just5 Spacer 2 gives an opportunity to use mobile internet and provides high speed of data transmitting which is the core not only for surfing but for quick downloading of video, photo and audio files. 3G internet is fast and stable and its maximum speed is about 21 Мbit/ s. This will provide you with the ability to use all the possibilities the internet gives at any place and time and you will never lose a second during downloading or data transmitting.
The first Just5 phone:

We have started to work on the first Just5 in 2008.

Unique design:

Just5 Brick is created in 2013 in cooperation with Art. Lebedev Studio.

International brand:

Just5 phones can be bought in 33 countries all over the world.

Bestseller:

JUST5 SPACER entered "Tele2" TOP5 of bestsold smartphones.

The first Just5 smartphone:

At the end of the year 2013 the first Just5 smartphone - SPACER - is released.