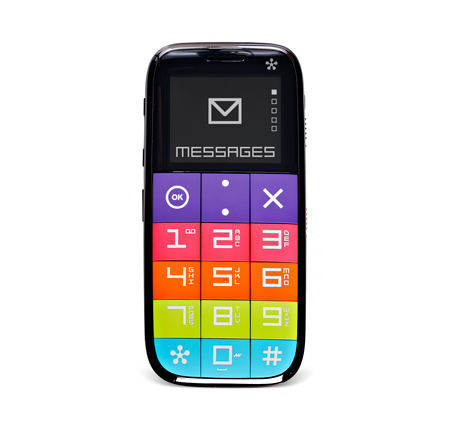 Several years ago mobile phone designer from Latvia, Just5, released a simple phone called CP10. The idea behind the big button mobile phone was not to improve its operational performance, but to create a more simplified phone. This new generation of big button mobile phones ( CP10s ) is characterized by its striking design and uncomplicated construction. Throughout this time, the phone's exterior, which was created by design studio Bestinspace, has kept its original characteristics but has been updated with additional touches.
Distinctive, small changes to the phone include slightly larger dimensions, the availability of a micro-USB port that connects to the charger, and new side buttons that eliminate accidental key presses and includes a powerful speaker. A more significant change occurred to the SOS button located on the back of the phone. Now called "SuperButton," it is decorated with the original "blot" symbol and by pressing this multifunction key, users can access the following options: Flight Mode, SOS, Jet Lag (quickly adjusts the phone's time zone based on location), Just Trip (a navigation application that allows the phone to remember the travel route through symbols and tips) and Hand Counter (keeps track of manual counting). These changes have affected the user interface.
Unlike the minor exterior changes, the phone's menu structure has been entirely rebuilt. Design and ergonomic changes include new fonts and design icons, a brighter screen, and improved readability. For a new line, Bestinspace developed new "space" ringtones that were recorded using vintage analog synthesizers. Additionally, the games were also updated in Just5 phones. The F1 Race was added, which is a sports-based car racing game, reminiscent of old-school video game consoles. The color aesthetic, however, remained similar—the classic white and black, purple "Deep Space," "Pink Space," "Orange Space," green "Lime Space," and blue "Menthol Space." Although the color schemes did not change, there were enhancements. Through the use of new materials and colors, phones now look even brighter and glow in ultraviolet light.
The first Just5 phone:

We have started to work on the first Just5 in 2008.

Unique design:

Just5 Brick is created in 2013 in cooperation with Art. Lebedev Studio.

International brand:

Just5 phones can be bought in 33 countries all over the world.

Bestseller:

JUST5 SPACER entered "Tele2" TOP5 of bestsold smartphones.

The first Just5 smartphone:

At the end of the year 2013 the first Just5 smartphone - SPACER - is released.