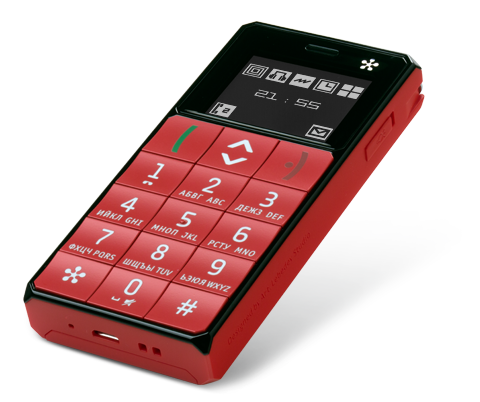 In a joint project, mobile phone designer Just5 and design studio Art Lebedev presented a designer version of the push-button phone named Just5 Brick. As a large button mobile phone, Just5 Brick has a simple and bright design. The current trend in mobile phone design includes the usual round shapes and excludes the use of a retractable antenna, but in developing the Just5 Brick model, the creators decided to return to the classic design concepts of the 1990s by going back to the forms and ergonomics of the period.
Incorporating these characteristics, Just5 Brick became an edgy, but vintage mobile phone. It is equipped with a telescopic metal antenna, and the model is available in five different colors: milky white, mustard yellow, jet black, brick red, and tea brown. It is priced at 2950 rubles, and it is reported that in the early fall, Just5 plans to introduce its first Android phone. These models will have mechanical buttons and will retain all the traditional characteristics of "chip" phones.
The first Just5 phone:

We have started to work on the first Just5 in 2008.

Unique design:

Just5 Brick is created in 2013 in cooperation with Art. Lebedev Studio.

International brand:

Just5 phones can be bought in 33 countries all over the world.

Bestseller:

JUST5 SPACER entered "Tele2" TOP5 of bestsold smartphones.

The first Just5 smartphone:

At the end of the year 2013 the first Just5 smartphone - SPACER - is released.