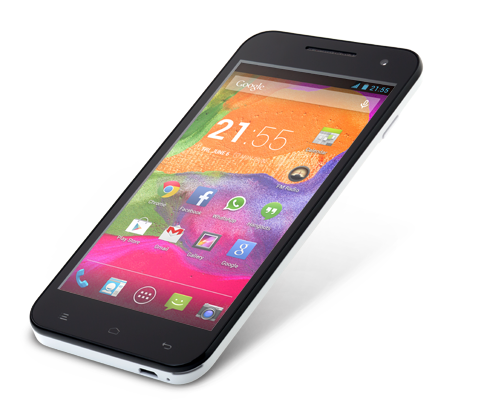 In our humble opinion Just5 Spacer Black is the best cheap Android budget smartphone in its price tier. It is budget, hip and edgy representative of smart phones.
Its usability and hardware quality are perfect.
Big 5-inch display having resolution of 540 х 960 pixels will help to make your comfortable Internet surfing and watching of video.
Other specifications are also impressive enough: quick quad-core processor, (1,3 GHz), short term storage and 4-Gb internal storage along with possibility to use 32 Gb microSD, Android OS and 1800 mA/h battery which enables the phone to work all day long.
Good 8-megapixel camera with built-in flash and video recording capability is another advantage of Just5 Spacer phone. Main camera is accompanied by front-facing 2-megapixel cam, which will help you to take marvelous selfies and use visual communication.
The phone can work with two SIM cards: standard and micro SIM. Due to this you can divide your work and your private life, spare your funds and stay in touch.
Just5 Spacer is almost the best cheap Android budget smartphone.
The first Just5 phone:

We have started to work on the first Just5 in 2008.

Unique design:

Just5 Brick is created in 2013 in cooperation with Art. Lebedev Studio.

International brand:

Just5 phones can be bought in 33 countries all over the world.

Bestseller:

JUST5 SPACER entered "Tele2" TOP5 of bestsold smartphones.

The first Just5 smartphone:

At the end of the year 2013 the first Just5 smartphone - SPACER - is released.